توضیحات
XNX-UTAV-NNNNN HoneyWell
Honeywell XNX Universal Transmitter for mV input compatible with any gas concentration cat bead sensor, with aluminum alloy LM25 housing (optional stainless steel), 3-wire 4-20mA HART loop, backlit LCD Display, option for Modbus, Foundation H1 Fieldbus, local Hart and relay outputs. UL, ATEX or INMETRO certified.
XNX-UTAV-NNNNN HoneyWell
Easy to Use
Large, backlit, easy-to-view LCD display offers multisensory indicators (visual icons, colored buttons, text, etc.) to display gas and sensor readings
User interface supported by 8 selectable languages (English, Spanish, German, Italian, Portuguese, French, Russian, Chinese)
Self-test and fault indication features
Non-intrusive, one-man operation
Quick calibration with auto-inhibit
Easy to Install
3 or 4 wire operation, source, sink or isolated
Use with conduit or cable installations
Simple plug-in sensors and replaceable cells
NEMA 4X IP66 rated for rugged indoor/outdoor use
Cost Effective
Minimal training required
One-man operation
Plug-in sensor replacement
All necessary accessories included
Applications
Offshore Oil & Gas production platforms
Onshore Oil terminals
Refineries
Gas Transmission
Gas Distribution
LNG terminals
Gas storage terminals
Chemical plants
Petrochemical plants
Solvent recovery operations
XNX is designed for flexible integration, simple installation, user friendly operation and straightforward maintenance. It is ideal for use with a range of gas monitoring controllers or industry standard PLCs. Users are assured of being protected in all conditions with Honeywell Analytics gas monitoring solutions.
Bringing together the best solutions in gas detection
XNX's modular design enables Honeywell Analytics to offer appropriate, cost effective solutions to a wide range of gas detection requirements.
With the XNX, you are freed from the need to add extra controllers, junction boxes, relays, monitors and other equipment accessories.
The XNX Universal Transmitter is an excellent choice for those who want a total integrated monitoring and safety solution for an industrial plant.
The XNX's powerful advanced communications module adds increased functionality and flexibility to a gas detection network. Standard HART communications, along with optional Modbus, Foundation Fieldbus (pending) or relays, interface with a PLC and a host of other protocol compatible devices found in industrial applications.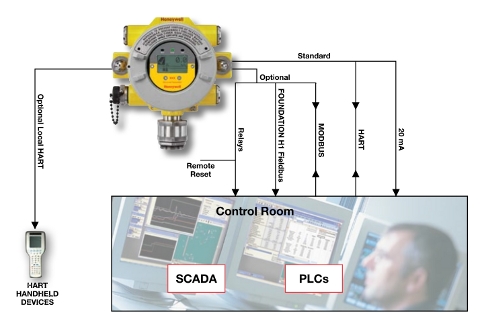 Back-lit, easy-to-read LCD display with icons includes a broad range of language options including English, Spanish, French, Italian, Portuguese, German, Russian and Chinese to meet global requirements.
XNX-UTAV-NNNNN HoneyWell
If you need a specific XNX-UTAV-NNNNN HoneyWell firmware or series, then we probably have it. Please call or email us your request.
call: +982188856017
Email: info@hermestrading.ir
شركت هرمس نیلگون مایا با هدف ارتقاء سطح كيفي تجهيزات فني و آزمايشگاهی، نفت، گاز، پتروشیمی، دانشگاهی، عمرانی و همچنين تامین تجهیزات  روز دنيا به كشور ايران وارد اين عرصه گرديده.
اين شركت با اعتماد قابل تقدير شما عزيزان توانسته است در مدت زماني كوتاه با كسب موفقيت های چشمگير، نامی قابل اعتماد در زمينه تامین تجهيزات نوين و پيشرفته فنی و آزمايشگاهی در سراسر كشور داشته باشد.
ما با حضوری فعال و کم نظیر سعی نموده ایم تا با مشاوره فنی، معادل و بهینه سازی تجهیزات مورد نیاز، انبار موجودی و امکان تحویل فوری، دفاتر برون مرزی در اروپا و آسیا و عاملیت فروش برند های معتبر و فعال در صنعت کشور، موجبات تامین آسوده، کم هزینه و ایمن را برای کاربران خود فراهم آوریم و گامي مهم در زمينه تامین کالا  و ارائه تجهيزات پيشرفته در صنعت نفت، گاز، پتروشیمی برداریم. با ما در تماس باشید.
XNX-UTAV-NNNNN HoneyWell